Boom or Bust is the season premiere of Season 1 and also the series premiere of Pawn Stars. In this episode, the items that come in the shop include a cannon, a suit of armor, and a table saw. Also, The Old Man is forced to get an eye exam after misidentifying a Carson City silver dollar
Featured Items
Edit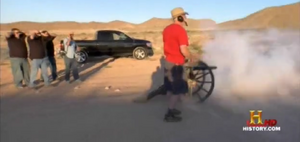 1890 Hotchkiss 2lb. Cannon
Less than 50 in existence world-wide; used in Cuba for the attack on San Juan Hill
Inspected by Rick (Cannon Expert).
Bought by Rick for

$30,000

; estimated worth of $40,000
Replica Roman Suit of Armor
Authentic Roman armor was made of iron and steel; only a handful have been found intact
Knapp Custom Table Saw
Worth $20,000 new; Knapp is considered the Rolls-Royce of table saws
Pawned for

$4,500

.
Trivia Question
Edit
"What is the most valuable item at the Gold & Silver Pawn Shop?"
A. 2001 Super Bowl Ring ($60,000)
B. Picasso's Ink Sketch ($4,000)
C. 15th Century Samurai Sword ($8,000)
Ad blocker interference detected!
Wikia is a free-to-use site that makes money from advertising. We have a modified experience for viewers using ad blockers

Wikia is not accessible if you've made further modifications. Remove the custom ad blocker rule(s) and the page will load as expected.